A Blackpool entrepreneur will take charge of the flagship Vodafone store at The Trafford Centre in Manchester, backed by funding from Barclays Franchising.
Trading as Clarke Phones Limited, Roy Clarke already has successful franchises in Blackpool and Preston, where he been responsible for successfully driving forward sales and income in the short period he has been there.
This has led to Vodafone agreeing to him taking on The Trafford Centre in Manchester.
Vodafone policy allows a franchisee to take on up to three stores which Roy will have.
Roy was able to bring in 3-4 extra staff in Blackpool and Preston and hopes to be able to grow the 20-strong team in Manchester and help drive forward store performance as we emerge from the pandemic.
He said: "I'd be joking if I said I wasn't daunted to take on such a prestigious outlet such as The Trafford Centre, but I'm also hugely excited and honoured to be given the opportunity to make a real success of such a large store.
"Barclays and Anthony in particular, have been a constant support throughout my time as a business owner which started two and half years ago.
"After working for large organisations all my working life, suddenly being out on my own was incredibly daunting.
"Luckily, I met Anthony who is always available for a chat and happy to pass on his expertise and share how the bank can support which has been a great comfort and gives me confidence as I take the next step in my business life."
Anthony Blight, Relationship Manager at Barclays said: "I got to know Roy when he took on the franchises at the Blackpool and Preston Vodafone stores.
"I was very impressed with his plans and commitment and this has resulted in him having the opportunity to take on an elite store at the Trafford Centre, one of the best venues in the country. I feel proud as part of Barclays team that I have been able to help support Roy in the next chapter of his business career."
---
CTConsults, the Manchester destination marketing and place branding experts, has been appointed by Fáilte Ireland to deliver on a major tourism initiative.
At present, only 27% of Irish visitor experiences are bookable online with just 13% of these experiences taking advantage of a fully connected booking system that integrates with other visitor attractions.
The 'Digital that Delivers' project aims to address this issue by providing Irish visitor attractions and providers with the digital capabilities, skills and knowhow to improve their booking revenues and operational efficiencies, to enhance their websites and online marketing, to cross-sell with other attractions, and to bolster Ireland's online appeal to potential visitors.
CTConsults is part of a consortium of three organisations that has been appointed through a competitive tender process – led by Irish digital agency Core Optimisation alongside Razor Social – that will work with Irish visitor attractions and tourism businesses to ensure they have the right digital tools and capabilities in place to optimise their product offer and bookability for potential customers.
Dan Lukas, Digital Director at CTConsults said: "Ireland is highly regarded around the world for its unique tourism offer which attracts millions of visitors every year who contribute significantly to the country's economic prosperity.
"But with only a minority of Ireland's visitor attractions and activities fully embracing a digital presence – and many of those that do still missing the opportunity to cross-promote and respond to valuable consumer insights – the country's wider potential to compete with other global destinations is currently being held back."
---
Macclesfield-based Tidy Planet has shipped four of its A900 Rocket Composters and a bespoke Dehydra Dewatering system to an oilfield in Kazakhstan, to compost the site's 255 annual tonnes of food waste.
Situated in Western Kazakhstan in the Burlin region, the remote 50km² facility is a major producer of oil and gas and has 4,000 employees working on the premises at any one time.
Its workers' camps and canteens generate a quarter of a kilotonne of food waste every year, from staff plate scrapings, and prior to investing in an on-site composting solution, this material was sent for a combination of incineration and landfill – in the absence of any commercial food waste processing sites that could accept the waste.
The new equipment – procured and operated by Demtec Solutions – will, for the first time, enable the oilfield to convert its wastage into compost, reducing the greenhouse gas emissions associated with incineration and pushing the organic waste stream further up the Waste Hierarchy.
Tidy Planet's sales manager, Huw Crampton, said: "There's hardly any infrastructure yet available to process food waste in Kazakhstan, so when the law recently changed around how it could be dealt with, this prompted our client to invest in a process that treated it as close to its source as possible."
In January this year, Kazakhstan brought in a new law which prohibits the burying of food waste – to help combat the country's five million tonnes of solid waste being landfilled every year.
Huw continued: "Demtec is a waste management contractor to the oilfield, so when the law changed, the team built a new composting facility a stone's throw away from where the waste is produced. As a result, this avoids excessive transportation – reducing the firm's carbon emissions and eliminating off-site disposal costs.
---
NorthEdge has become one of the first private equity firms to sign the Mindful Employer charter, further committing to supporting its people's mental health and wellbeing.
Mindful Employer is a UK wide initiative run by Devon Partnership NHS Trust. It provides employers with easier access to professional Workplace Mental Health training, information and support, and aims to empower employers to take a lead in supporting the mental wellbeing of their staff.
To sign the charter, organisations agree to abiding by the Mindful Employer's core values, which include providing non-judgmental and proactive support to staff experiencing mental ill-health, supporting line managers in managing mental health in the workplace and being positive and enabling toward all employees and applicants with a mental health condition.
NorthEdge has dedicated mental health first aiders and actively encourages its portfolio businesses to have the same provision.
NorthEdge also provides its portfolio management teams with access to resources and operating partners to help them continue to build inclusive cultures within their organisations.
Prem Mohan Raj, COO at NorthEdge, said: "Collectively across our portfolio, we have almost 7,000 employees. That means we have a hugely important role to play in making sure NorthEdge and the businesses we back foster healthy, supportive and motivational environments for our people.
"The Mindful Employer charter gives us access to training and useful resources, which will be hugely beneficial for us and the management teams we support. By signing the charter for 'Employers Positive About Mental Health' NorthEdge have made a public statement of our desire to continue to support the mental health of our people across the organisation."
More unicorn companies will soon emerge from Manchester's rapidly growing tech ecosystem.
That's according to software consultancy Codurance, which continues to work with the fastest British business ever to reach unicorn status, Cazoo.
Codurance, based on Mount Street in Manchester city centre, is currently supporting the UK's leading online car retailer's ambitious expansion plans and has been Cazoo's software partner since September 2019.
Cazoo plans to list on the NYSE later this year through a $7bn business combination with AJAX I, a publicly traded special purpose acquisition company founded by renowned US investor Dan Och.
Amelia Bampton, regional director of Codurance UK North, believes Manchester will soon add to the five unicorns it has already produced.
It comes after Manchester ranked fourth in the UK tech hub investment table, with £163m ploughed into the sector according to another report by Tech Nation and Dealroom.
"It's remarkable to think there's been a 127% increase in UK tech unicorn creation over the past few years," she said.
"With Manchester being such a burgeoning startup hotbed, there is bound to be 'futurecorns' that will emerge. While being incredibly challenging, Covid has undoubtedly created some positivity for digital delivery businesses, accelerating their impact.
"I firmly believe more unicorns will emerge. Investors are ready and following the progress of a whole host of startups across the city region."
Codurance – which supports startups throughout the lifecycle stages – is a £8m turnover software consultancy employing more than 100 people with offices in Barcelona and London.
---
Entrepreneur Delight Mapasure took her sausage business, K's Wors, to TV's Dragons' Den to pitch for investment.
The entrepreneurial brand founder pitched her wildly popular brand of sausages, K's Wors, but didn't go on to secure investment from any of the Dragons.
Delight said: "I suspected that my chances of success in Dragon's Den were miniscule the moment I realised that two of the dragons were vegetarian, one was a 'sausage detractor' and one had a prior sausage producer commitment.
"Sometimes things are just not meant to be and that's the bottom line!
"And, for someone like me who has been through what I have been, seen what I have seen and has been historically told that my vision was little more than a frivolous hobby and that women like me were better off at home cleaning and raising children, a very courteous no thank you from Peter Jones, Deborah Meaden, Touker Suleyman, Tej Lalvani and Sara Davies was absolutely fine with me."
K's Wors has recently launched pork-based boerewors that marries authentic South African seasonings with traditional British banger leanings.
---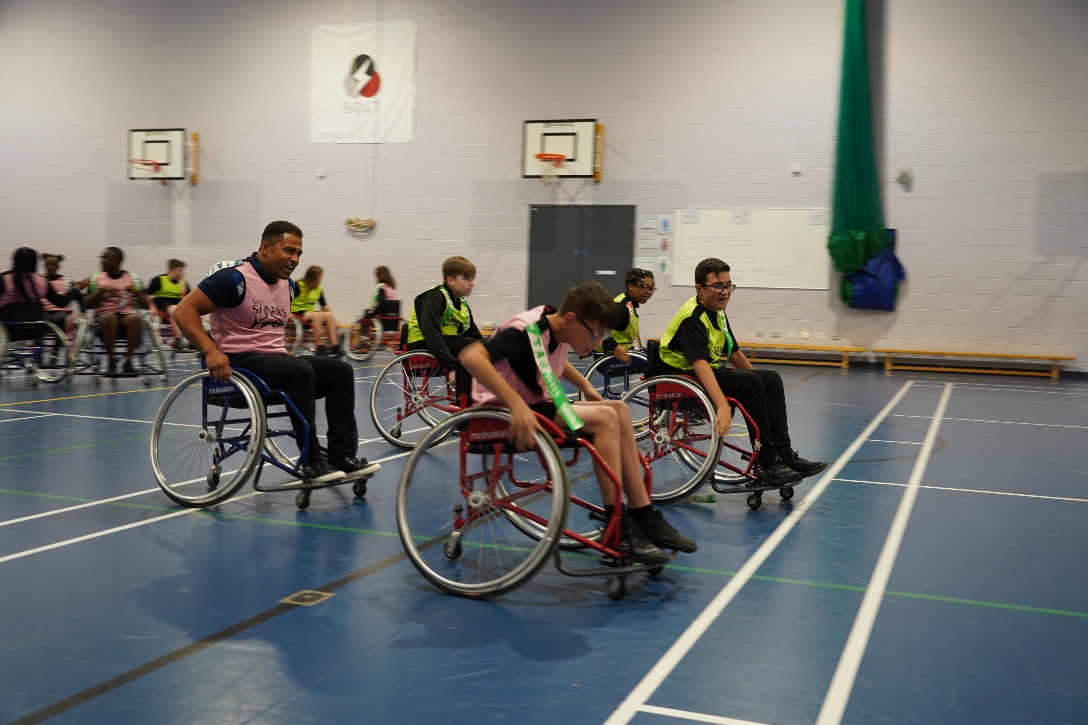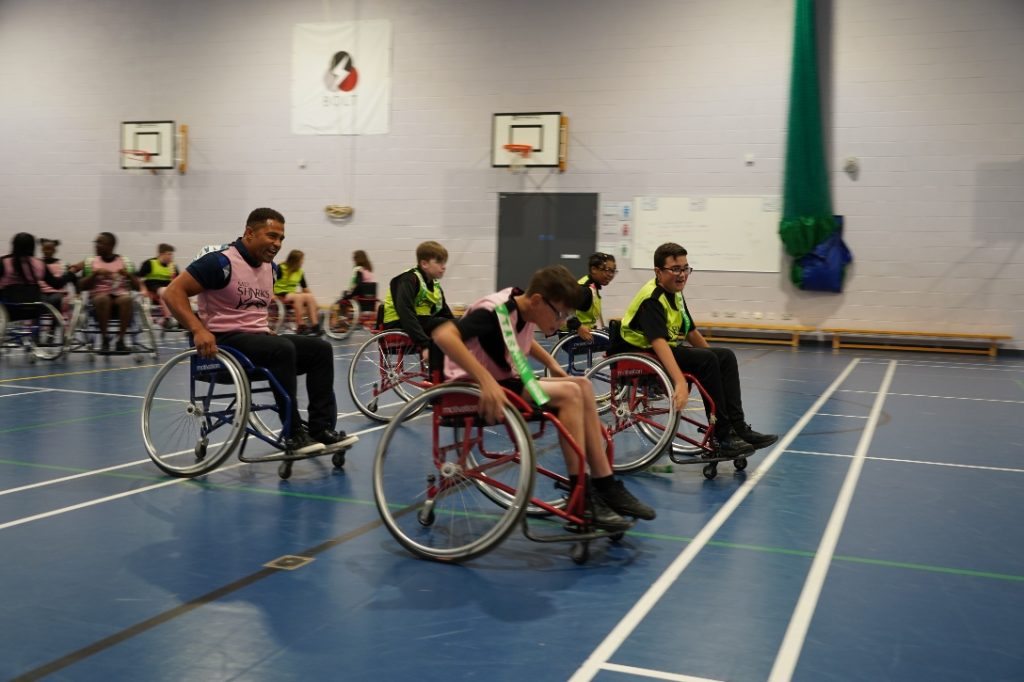 Sale and England legend Jason Robinson showed off his skills on four wheels as he teamed up with the Sharks Community Trust and club sponsor Printerland to deliver wheelchair rugby and mental wellbeing sessions at a Salford school.
Jason, who is a non-exec director at Sale Sharks, joined Sharks Women's star Carys Hall at Buille Hill Academy for the third of three events provided by Printerland at schools around Manchester.
Around 20 year eight students went through drills in the wheelchairs before Jason and Carys, who teaches science at the school, captained two sides in a match in the school sports hall.
The day was wrapped up with an inspirational talk from Jason, who explained how he overcame childhood challenges to captain Sale Sharks and England and play in three World Cup finals.
Jason said: "When I was making my way in rugby as a young player we didn't have this sort of education and support. It would have made a huge difference to me because I struggled at times.
"These young people have so many new challenges with social media so I jumped at the chance to speak to them, to encourage them, and to remind them that they can be anything they want to be."
Printerland CEO James Kight said: "Mental wellbeing is hugely important and witnessing role models like Jason and Carys having such a positive influence on those who look up to them is fantastic.
"Our aim to introduce Rugby to new audiences has allowed us to bring people together in support of each other, and we can't wait to continue with this commitment over the next Premiership season and beyond."
---
Entrepreneurs looking for new technologies to help their SMEs to grow and thrive now have a new tool with the launch of the fully-funded Technology Adoption Service.
The Technology Adoption Service (TAS) has been launched by GC Business Growth Hub as a result of Greater Manchester and London authorities joining forces to find new ways of helping SME business owners to compare and deploy technologies that can improve productivity, increase efficiencies, and help increase sales and turnover, amongst many other benefits.
For example, brick and mortar retail shops that have been forced to remain shut through the lockdown period can use this platform to find out more about which e-commerce solution might be right for them to help drive their online sales. Other examples include accounting software which can automate invoicing, and sales software which can improve customer support services.
The TAS platform has been developed with support from Greater Manchester Combined Authority and Greater London Authority in response to the fast-changing conditions that businesses have experienced since the onset of the COVID-19 pandemic.
The platform has been launched as part of the Greater Manchester Local Industrial Strategy, which sets out a programme of measures to support businesses, good employment and sector strengths in the city-region.
Councillor Elise Wilson, Greater Manchester Combined Authority (GMCA) portfolio lead for Economy, said: "Whether a business wants to manage its finances more efficiently, make better use of data, or sell more online, technology can provide a solution, but business leaders can find the landscape difficult to navigate.
"The platform offers a simple way for businesses to search and identify the tool that best suits their needs, with additional support on adopting the technology provided by the Business Growth Hub."
Sarah Novotny, Head of Digital, Creative and Tech for GC Business Growth Hub, said: "Faced with the day-to-day challenges and constraints of running a business, smaller and medium sized enterprises tend to be least likely to adopt new technologies that could be beneficial to their long-term productivity and growth.
"Yet independent research by the Enterprise Research Centre has found SME businesses report an average productivity uplift of 20 per cent by investing in new technologies. Our solution to this problem is the fantastic new Technology Adoption Service, which can help our business community to easily research and consider many of the technology options that are available to them, via a trusted source."