In April, the retail sector got the best news it had received since the pandemic started: retail sales for the month of March jumped 9.8%—the biggest monthly jump since May 2020. Retail REITs are also performing well this year, with malls and shopping centers up 33.6% and 32% respectively as of mid April, according to BTIG.
The retail industry didn't necessarily need these indicators to realize that their sector, long beleaguered and then battered some more by the pandemic, was looking up. The men and women who lead the retail real estate sector have understood over the past several months that even though the landscape was grim at that moment, better days were ahead. And why not? It was these same men and women who laid the groundwork for those better days through investments, strategies and planning. On the following pages you will meet some of these retail real estate leaders, chosen for their individual and corporate contributions for the industry. The last year has admittedly been a slog but they are now looking forward to brighter times.
INDIVIDUALS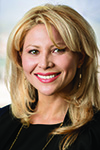 BARBARA ARMENDARIZ SHARPLINE COMMERCIAL PARTNERS Barbara Armendariz started her industry career with no contacts, mentors, coaches or role models. Through networking and persistence, Armendariz launched her commercial real estate journey at Colliers, before serving as VP at CBRE. Realizing her entrepreneurial aspirations, Armendariz set out to establish her own brokerage firm three years ago at age 35—one of very few minority women to do so. Since Armendariz founded Sharpline Commercial Partners, she has steadily grown her client roster not only in the competitive market of Los Angeles, but also in her additional offices in San Francisco and Las Vegas. As president and a retail property specialist, Armendariz leads the firm to execute on creative deals that others will not attempt to take on.

MARANDA K. AUZENNE TRADEMARK PROPERTY CO. Influential within the retail sector for many years, Maranda K. Auzenne fulfills her passion of being a diversity, equity and inclusion advocate through personal efforts and corporate initiatives. In addition to her official role as VP of property management at Trademark Property Co., Auzenne focuses on increasing the number of women and minorities represented in the retail sector by steering Trademark's DEI program activities and developing internal DEI policies. Additionally, as a dedicated advocate for the firm's property teams, Auzenne leads and oversees Trademark's more than 10 million square feet of space and works to enhance experiential retail initiatives. A true trailblazer, Auzenne was one of four employees selected for Trademark's first senior leadership team. She was part of the inaugural class to achieve the Certified Retail Real Estate Professional certification from ICSC in 2018, and in 2020, she served as the first African American to chair the ICSC Red River States conference, while helping host the conference's first women's event to promote industry diversity.

BETH AZOR AZOR ADVISORY SERVICES As the creator of countless initiatives within the industry, Beth Azor serves in various ways as a support system for others' success. Most recently, Azor led a retail movement during the pandemic, by engaging top retail landlords to donate and convert empty shopping center storefronts into pop-up shops for smaller independent retailers to incubate at little to no cost. The concept benefits landlords through possible long-term leases and supports the small business community through new opportunities. In 2004, upon the acquisition of one shopping center, Azor founded Azor Advisory Services as a single mom. As principal, she now leads the firm to develop, own and operate retail centers valuing $87 million. In addition, Azor has authored two books on the retail sector, she created the Azor Academy YouTube channel, podcast and workshops to educate industry professionals, she developed and co-created the annual South Florida Independent Retailer Awards and she founded the Florida State University Real Estate Foundation.

SAM BENNETT COOPER CARRY With a design philosophy inspired by culture's influence on retail, Sam Bennett not only transforms spaces through her designs, but she also connects communities. Bennett works alongside local municipalities to integrate projects into cityscapes and generate public space opportunities that enhance the urban landscape and foster community. Bennett utilizes her more than decade of industry experience spanning numerous sectors to design developments that integrate uses—with retail as the focal point—effectively bridging the gap between property types. Additionally, with clients increasingly seeking mixed-use opportunities, Bennett applies her expertise throughout the full scope of a project. As an associate and project manager at Cooper Carry, Bennett serves the firm as a key innovator. With a retail portfolio comprising high-profile, complex projects, Bennett's work and client relationships continue to increase business opportunities for the firm.

JUSTIN BERRYMAN FRANKLIN STREET After achieving a high level of success in the Atlanta market, Justin Berryman relocated to the competitive South Florida area with zero clients, and quickly duplicated the same achievement within the hyper-local leasing market. In 2017, he launched Franklin Street's South Florida retail leasing division, and within three years, he has grown the landlord leasing portfolio to more than one million square feet of grocery-anchored centers, while simultaneously building a client list of tenants. As senior director of retail services at the firm, Berryman focuses on business development for both the landlord representation division and the tenant services group. Berryman has been honored with Franklin Street's achievement award nearly every year since 2014, and in 2019, he was recognized as the firm's highest grossing retail producer. Furthermore, throughout the pandemic, Berryman proved essential to property owners and retailers, who leaned heavily on him for guidance, strategy and negotiations.

CARRIE BOBB CARRIE BOBB & CO. AND HELLOJENNY Following a successful career at CBRE, Carrie Bobb set out to redefine dated, in-person networking and drive revenue for brick-and-mortar retail landlords through the use of social media. With expertise as a top retail broker and training in digital marketing, Bobb applied a millennial-focused strategy to successfully launch two firms within the past two years—the retail brokerage, Carrie Bobb & Co. and the digital marketing company, HelloJenny. Using customized marketing programs, Bobb establishes clients' property appeal and aligns a social media identity for each property, before digitally pursuing retail brands as prospective tenants. In addition, Bobb and her sister have worked to introduce the bipartisan bill, Carrie's Law, to the House of Representatives in effort to remove rape and sexual assault from arbitration clauses in employment contacts.

JAMIE K. BROOKS CBRE Jamie K. Brooks has held a dominant presence within the historically underserved and ethnically diverse submarkets of Los Angeles county, long before other brokers recognized their relevance. Due to his commitment in representing clients in these trade areas, Brooks has provided measurable and lasting impacts through job creation, elimination of blight, local tax revenue and industry awareness of economic opportunities within the densely infilled neighborhoods. He has been a perennial top retail producer at CBRE for numerous years. As first VP at the firm, he assists clients through the entire real estate process, tapping into his in-market knowledge, financial expertise and placemaking success. Aside from his retail transactions, Brooks' proudest accomplishment is his effectiveness in raising industry awareness around diversity, equity and inclusion. He continues to partner with investors, retailers and healthcare occupiers who are committed to social impact investments in underserved communities.

LESLEY CAMPBELL INTERNATIONAL COUNCIL OF SHOPPING CENTERS With previous roles at both the luxury brand Tiffany & Co. and the affordable housing developer, L&M Development Partners Inc., Lesley Campbell has the legal skills to represent retail real estate matters that span prominent high street environments and inner-city neighborhoods. As an award-winning attorney, Campbell now serves as general counsel at the major trade association, International Council of Shopping Centers, where she oversees a myriad of legal matters and has more recently guided countless legal relationships and agreements throughout the pandemic. An influential legal expert, Campbell will soon be sworn into the New York City Bar Association's board of directors, and she will additionally assume a role on the board of directors for the industry employment diversity initiative, ProjectREAP.

JEFF CARPENTER SIMONCRE Jeff Carpenter spearheads the redevelopment of vacant spaces through his ability to identify beneficial property transformations and when necessary, turning initial opposition to projects into support. Realizing his passion for the industry at a young age, Carpenter began his career in 2007 while still in college. He then worked at a national development company, where he built an investment team from the ground-up, while overseeing more than $200 million in acquisitions. As a partner at SimonCRE, Carpenter sources opportunities for both ground-up development and the acquisition of value-add assets. Since joining SimonCRE in 2015, alongside only three employees, Carpenter has served as an integral part of the firm's exponential growth. Under Carpenter's leadership, SimonCRE now has more than 40 employees and has completed more than 200 projects throughout the country, valued at more than $430 million.

THOMAS DOBROWSKI NEWMARK Thomas Dobrowski began focusing his efforts on enclosed malls during the Great Financial Crisis, when most brokers shifted gears to focus on more stable asset classes. Navigating the difficulties during that time and analyzing the challenging property type ever since, Dobrowski now serves as an expert in the field, able to provide insight on trends and strategies to promote revitalization. Dobrowski serves as an advisor to investors as he leads a capital markets team focused exclusively on the enclosed mall sector, as vice chairman at Newmark. Initially joining Newmark in 2015 with the mandate to grow its mall capital markets platform, Dobrowski has since led his team to provide consulting and valuation services for assets totaling more than $20 billion.

WINSTON FISHER AREA 15 / FISHER BROTHERS MANAGEMENT CO. Leveraging his knowledge of traditional real estate development and the outdated traditional mall model, Winston Fisher sets out to not only improve, but redefine the model entirely. Fisher reimagines the customer experience to construct new location-based entertainment models that ignite curiosity and excitement in visitors. As a result of a nearly three-year creative process, Fisher co-created and opened the experiential retail and entertainment district, AREA15, in September 2020, amidst the pandemic. The 200,000-square-foot project started as an empty lot in a warehouse district off the Las Vegas Strip, and emerged as an immersive retail experience. Serving as CEO of AREA15,  Fisher additionally is a partner at Fisher Brothers, where he oversees all new development initiatives, leads all financial analysis and manages the firm's investment portfolio. Fisher additionally established the firm's affiliate, Lionheart Strategic Management and serves as chairman.

MITCH FRIEDEL NEWMARK RETAIL Mitch Friedel's extensive experience in tenanting outdoor mixed-use retail developments has become even more relevant and useful to his clients upon the onset of the COVID-19 pandemic. As a pioneer in retail placemaking, Friedel holds a deep history of curating outdoor retail centers and has stayed on top of trends to navigate the pandemic's effects on retail. Working with owners and retailers from planning to execution, Friedel fosters a sense of community at destinations through his holistic, curated approach to tenanting. As vice chairman of Newmark Retail, Friedel leads a team to identify retailers and grow nationally recognized mixed-use developments and retail centers across the country. Friedel has been recognized within Newmark for the past five consecutive years as one of the firm's top 100 producing executives.

JULIE GARDNER KATZ & ASSOCIATES Gaining in-depth demographic and geographic market insights early-on in her career while cold-calling to lease retail centers, Julie Gardner is now a well-known, knowledgeable resource across Southeast markets. Gardner succeeds by visiting markets within major commercial corridors to update her market maps, observe changing demographics, share her insights and apply her knowledge to help clients adapt. As principal, Gardner has significantly contributed to Katz & Associates' revenue, reputation, expanded footprint and success. Taking leaps of faith on new growth markets, she helps retailers and developers with strategic planning, site selection and lease negotiations. She successfully completed 11 restaurant transactions during the pandemic in 2020. In addition to her work at the firm, Gardner is an active member of ICSC Carolinas, serving in various leadership positions and currently as the co-chair for the organization's Southeastern conference.

DAVID GERSTENHABER BRIXMOR PROPERTY GROUP Launching his industry career as a leasing representative 15 years ago, David Gerstenhaber has since climbed the corporate ladder at Brixmor Property Group to his current role of SVP and head of national accounts, where he led his team to execute 950 leases within 12 months of assuming his position. He negotiates new leases, renewals and expansions, he advises his team on ideal tenants for specific locations, and he advises the executive team on pre-leased reinvestment opportunities. Gerstenhaber has also diversified Brixmor's tenant mix by leasing recaptured space to thriving retailers. A top producer since joining the firm, Gerstenhaber continued to execute new leases and position retailers to serve their communities throughout the pandemic.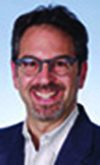 DAVID GREENSFELDER GREENSFELDER COMMERCIAL REAL ESTATE David Greensfelder developed his retail discipline long before the current COVID-19 pandemic. As managing principal of the boutique consultancy, Greensfelder Commercial Real Estate, which specializes in retail sustainability and resilience, Greensfelder oversees all consulting engagements, as well as the firm's owned real estate. He consults for communities and institutional owners and developers throughout the US, and creates forward-looking approaches and implementable recommendations for each project. His five principles of retail resilience are utilized by various organizations and companies as models to guide retail development programs and strengthen communities. Throughout the pandemic, Greensfelder led his firm to provide the necessary feedback, expectations and strategies for consumers to feel safe.

AYLIN B. GUCALP CUSHMAN & WAKEFIELD As director of retail services, Aylin B. Gucalp serves on one of Cushman & Wakefield's most active and successful retail brokerage teams. With an impressive client roster and a robust skillset, she aids retail brands in identifying and securing store locations, she counsels digitally native brands in realizing their experiential concepts and she manages renewals, relocations and growth for tenants. Throughout her career, Gucalp has transacted more than 350,000 square feet, valued at $500 million, on behalf of prominent retail clients. Gucalp is equally as well-known for her work in advancing women within the industry. She currently serves as the co-chair of Cushman & Wakefield's Tri-State region Women's Integrated Network, where she leads the firm's largest chapter, spearheads key programming initiatives, and recently pivoted the program to offer remote support and connections. She participates as a speaker for a range of organizations, such as New York Women Executives in Real Estate, and throughout the pandemic, she frequently led rent relief discussions.

KEELY HINES FOUNDRY COMMERCIAL Keely Hines carries out a unique approach to leasing high-profile retail development projects. Able to understand a landlord's objective, as well as a retailer's business, Hines utilizes both perspectives to connect the right opportunities in the ideal location and ensure long-term success for both parties. As VP at Foundry Commercial, Hines leases a wide array of retail properties. She stabilizes assets, fills space for clients, communicates with tenants and continues to grow the firm's retail business. Hines completes an average of more than 100 transactions per year, which she achieved once again during the pandemic in 2020. Last year, Hines also increased her centers' occupancies. During the pandemic, she served as a source of positivity and counsel for clients, approaching challenges head-on as a partner. A true servant-leader and mentor, Hines continues to build others up and shares the secrets of her success.

MAGGIE HOLMES STAN JOHNSON CO. Successfully rising through the ranks at Stan Johnson Co., Maggie Holmes commenced her industry career in 2014 as an administrative assistant at the firm. Immersing herself in various subject matters to master each concept along the way, Holmes quickly received numerous promotions. She became a top five producer in the Southeast within her first year as associate broker, prior to being promoted to associate director, and then earning her current title of director. Leveraging a relationship-based approach, Holmes prioritizes her clients and is fine-tuned to their needs and concerns. She guides clients through optimal asset positioning and transactional efficiency, and maximizes returns at both the property and portfolio level; leading her clients to refer to her as "an unstoppable force." Achieving a robust track record, Holmes serves as a top producer at the firm and within the Atlanta market. Within the past three years, Holmes has closed 85 transactions, totaling $195 million in volume.

KATHLEEN M. JORDAN GENSLER With more than three decades of experience focused entirely on retail-related projects, Kathleen M. Jordan has worked at Gensler for the past 23 years. She assumed her current role of principal at age 39. Extremely well-versed in what makes retail tick, Jordan has directed some of Gensler's most influential and award-winning retail projects with national and international retail brands. As studio director, Jordan developed and currently leads the firm's lifestyle studio in Charlotte, NC, where she is responsible for a team of architects and designers, leads all phases of architectural and interior projects and strategically grows and curates the retail practice point of view. In more recent years, Jordan has focused her efforts on supporting and educating brokers, owners and developers concerning the needs of retailers. She shares her retail expertise to benefit local businesses and has become a critical resource for the Charlotte Center City Partners organization to develop retail strategies for the city.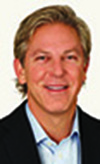 WARD A. KAMPF NORTHWOOD RETAIL Ward A. Kampf holds a unique perspective for what's next; able to identify trends, new opportunities and up-and-coming brands that are transformational to centers. Through his forward-thinking, visionary approach, Kampf has been instrumental in ensuring Northwood Retail remains ahead of its competitors. As president of the firm, Kampf leads a team of 52 employees and steers the company to develop dynamic retail centers, unlike others. Under Kampf's leadership and cutting-edge mindset, Northwood Retail's portfolio contains 71 first-to-market tenants throughout its properties. Kampf is entrenched in the firm's day-to-day business and works at each property to ensure a strong portfolio. Instrumental in building several, successful retail developments into what they are today, Kampf is often sought out by industry peers for his perspective and foresight. A result of Kampf's adaptability and preparedness, Northwood Retail leased 200,000 square feet during the pandemic, and managed to make no layoffs throughout the past year.

NEILL KELLY CBRE Neill Kelly has spent years advising retail clients on optionality, cost-savings and optimizing their portfolios. His expertise has become even more valued as retailers increasingly seek to reduce store footprints and struggle with the cost of exiting locations on a large scale. Providing guidance on navigating and managing the leasing process to avoid detrimental outcomes and emerge better-positioned, Kelly works with notable retailers to develop strategies for future success and financial growth. A resource to both retailers and media outlets, Kelly serves as SVP and practice leader for CBRE's occupier restructuring and disposition services platform in North America. A former Wall Street investment advisor, Kelly joined the firm in 2016 to build and lead the new platform, and he has since successfully aided clients in assessing, valuing, reorganizing and reducing the overall cost of their portfolios. He continues to assist clients as a trusted advisor as the industry moves into its new reality.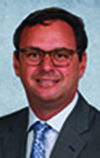 GLEN D. KUNOFSKY MARCUS & MILLICHAP A top agent within the field, Glen D. Kunofsky holds the track-record to prove it. As a member of Marcus & Millichap's retail division and net lease division, Kunofsky has served as the firm's top producing agent and top retail agent for many years. Since joining the firm in 2001, Kunofsky has built out the firm's NNN pro group to include 50 professionals, and he has doubled the group's transaction volume over the past three years. Additionally, within the past three years, Kunofsky advised on and completed the two largest retail sale-leasebacks in the sector. As executive managing director, he completed $2 billion in sales for more than 485 properties in 2020 alone. Securing countless internal accolades, Kunofsky has previously, repeatedly served as the firm's top investment professional and top listing agent. He has also consecutively received the firm's chairman's circle of excellence honor since 2005, and its national achievement award since 2003.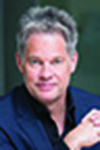 GREG LYON NADEL ARCHITECTURE + PLANNING A powerhouse and visionary within the field of commercial architecture and design, Greg Lyon leads the way into a new era of retail design. With 25 years of industry experience, Lyon was an early leader in the concept, and now, widely-used trend, of mixed-use communal space within retail environments. Known for his innovative designs, urban development executions and conscious energy-saving strategies, Lyon has additionally been a driving force in the overall success of Nadel Architecture + Planning. As chairman, principal and design director, Lyon has catapulted the firm's expansion and growth, while securing a well-known reputation as a trendsetter in the marketplace. With Lyon at the helm, Nadel Architecture + Planning has completed more than 500 projects nationally and internationally, while completing more than $700 million and more than 10 million square feet of retail architecture within the Inland Empire.

SARA MARTIN COLLIERS | MINNEAPOLIS-ST. PAUL With the belief that small local businesses serve as the heart of any community, Sara Martin is devoted to helping local retailers gain market share, grow their concepts and expand their presence. As a retail brokerage expert and a trusted advisor, Martin works with locally-owned stores and small business owners to provide market knowledge and research needed to build community and garner long-term success. Martin first started at Colliers | Minneapolis-St. Paul 18 years ago as an associate broker and she has since completed transactions totaling more than $254 million and 2.8 million square feet. Martin's hard work throughout the pandemic in creating proactive solutions for clients earned her a promotion to SVP in early 2021. Across the Midwest, Martin works with local and national tenants and represents landlords from large national entities to small local operators. She continues to successfully drive traffic, bring in suitable tenants, serve community interest, introduce new technology and eliminate vacancy in the market.

JOSEPH MILLER JLL As EVP and the national practice leader for JLL's retail group, Joseph Miller oversees the national JLL retail valuation advisory group and co-manages JLL's valuation advisory's Chicago office. Miller's responsibilities not only span general appraisal tasks, but he additionally participates in numerous discussions and webinars to examine the retail marketplace and receive input to ensure current market expectations for appraisals. Throughout his career, he has appraised numerous notable high-end retail properties in the US. Miller cultivated a positive impact on the retail sector, specifically regional malls and shopping centers, throughout the entire pandemic. He quickly and safely educated clients on market challenges, he dedicated time to gain long-term appraisal contacts to bolster business, he shared underwriting with large REITs and investors, he conferred with large lenders to better underwrite specialty retail, and he continues to correctly size valuations and align values with current market expectations.

MIKE MORAN BLACK CREEK GROUP Developing a deep understanding of the retail industry by initially acquiring an array of property types, Mike Moran now demonstrates strong knowledge on retail markets across the country. Leveraging industry relationships and prior experience, Moran joined Black Creek Group in 2015, and has since evolved his position into a dual role of VP and head of retail acquisitions and asset management. While overseeing a Denver-based team and heading a Northeastern regional office, Moran constantly strives to create value for investors. His opinion and judgement are trusted by company leaders as he has proved instrumental in shaping the firm's retail strategy and growing its retail presence. A true hands-on leader, Moran strives to be a mentor to his team, professionally and personally; lending support as needed and providing guidance to advance careers within the field. Throughout his 14-year industry career, Moran has been involved in more than $1 billion in real estate acquisitions, including $850 million in retail transactions.

GARY E. MOZER GEORGE SMITH PARTNERS By combining his extensive knowledge and close capital relationships, Gary Mozer has achieved a successful 36-year career in commercial real estate financing. As principal and co-founder of the real estate capital advisory firm, George Smith Partners, Mozer continually finds opportunities, meets clients' capital expectations and closes deals. He communicates current capital trends to clients, lenders and other industry stakeholders, while leading a team of finance experts at the firm. With the skillset, diligence and foresight to stand out among others, Mozer has arranged more than $30 billion in debt and equity financing for real estate transactions. Offsetting risks by leveraging liquidity, capital relationships and portfolio diversification, Mozer closed more than $136 million in retail financings in 2020; securing highly-competitive financing and ensuring the long-term success for clients. Valuing lifelong learning and education, Mozer remains extremely involved as a leader with ICSC, ULI, NAIOP and Young Presidents Organization.

ERIC RICHTER PHILLIPS EDISON & CO. Revered for his straight-forward and trustworthy leadership style, Eric Richter is also known for his commitment to excellent customer service and dedication to community. As SVP of property management at Phillips Edison & Co., Richter oversees a close-knit team of professionals that handle the operations for the firm's national portfolio of more than 310 grocery-anchored shopping centers. Heavily involved in the company's customer experience initiative, as well as its sustainability initiatives, Richter has fostered several programs within the firm to assist retailers. He and his team have created a rewards program for tenants, a program to assist retailers with signage, dedicated pick-up parking and drive-through windows, a proprietary platform to streamline customer service, and additionally published the organization's corporation social responsibility reports to highlight the team's environmental initiatives. He continues to find creative ways for retailers to operate and succeed. He serves as a committee member for ICSC's Beyond Sustainability and he serves as a mentor to small business start-ups.

ANGELE ROBINSON-GAYLORD RITE AID CORP. A pioneer for the potential of retail within urban markets, Angele Robinson-Gaylord previously led the evolution and expansion of IKEA's urban, smaller footprint store strategy as president of North America Real Estate for the large format retailer. In late 2020, Robinson-Gaylord assumed her current position as SVP of store development at Rite Aid Corp., where she will develop, define and roll out the company's real estate strategy for its more than 2,400 owned and leased retail locations. In 2018, Robinson-Gaylord was appointed to the ICSC's board of trustees, as the second black woman to be elected to the board. During her career, Robinson-Gaylord has influenced the mindsets of many within the industry through her successful work in leadership roles and as a role model for minorities and women of color. A graduate of Stanford University, George Washington University Law School and Project REAP, Robinson-Gaylord frequently represents the retail real estate industry as a speaker and contributor at events, conferences and panels.

MARK RUBLE MARCUS & MILLICHAP As a top producing agent and one of the top three retail agents within all of Marcus & Millichap, Mark Ruble has solidified a nationwide presence through his work. Based in Phoenix, AZ, Ruble has completed more than 1,400 transactions across more than 46 states, totaling more than $4 billion in sales. In 2020 alone, he closed 169 transactions, valuing nearly $550 million. As an expert in the field and a market leader in net leased investment sales, Ruble continually provide clients with his expertise and superior advisory services. Since joining Marcus & Millichap in 2004, Ruble has risen through the ranks to now serve as executive managing director. Throughout his time at the firm, he has received numerous honors, including the chairman's circle of excellence for five consecutive years, the national achievement award for 13 consecutive years and the sales recognition award for 14 consecutive years.

CHRIS SANDS SANDS INVESTMENT GROUP With the mission to rebrand brokerage by shifting market perceptions, Chris Sands set out to create a company based on honesty, integrity and collaboration. He accomplished this goal by founding Sands Investment Group in 2010, and has since led the firm to serve as a sought-after authority within the net lease space. As CEO, Sands has grown the company exponentially within the past three years; increasing its headcount by 90% to 100 advisors, expanding its footprint to six offices throughout the US, and growing its deal volume to total more than $5.1 billion across more than 2,500 closed transactions and 48 states. Sands continues to lead the firm as its top producing broker. Furthermore, Sands fosters a workplace culture of community engagement and giving back through the SIGives program, in which the company donates a percentage of revenue to charitable organizations. SIGives has donated more than $2 million since its inception.

ADAM SCHWEGMAN NORTH AMERICAN PROPERTIES Upon starting out in real estate finance and consulting in 2002, Adam Schwegman quickly shifted to retail leasing and has since become a seasoned leasing strategist, with experience working with prolific companies in the culinary, entertainment and hospitality sectors. Since 2005, Schwegman has been responsible for leasing more than 500 restaurant and retail tenants, totaling nearly three million square feet. Throughout his career, he has added more than 200 new, unique brands to his portfolios, and he has conceptualized and executed five ground-up food halls, having recognized early-on the demand for this type of retail experience. During his nearly two-year tenure as partner and SVP of leasing at North American Properties, Schwegman has signed dozens of new leases while leading a team of professionals to curate a merchandise mix at each property. In addition to diversifying and modernizing the retail experience at premier shopping destinations, Schwegman has served ICSC as an active committee member and speaker.

LEE J. SHAPIRO KENNEDY WILSON BROKERAGE Lee Shapiro has been instrumental in building a more walkable Los Angeles through numerous transit-oriented projects. Promoting continued commercial tenancy growth throughout Southern California, Shapiro introduces retail, fitness and restaurant core tenants to ground-floor spaces in mixed-use developments surrounding metro stations. As EVP and director of retail at Kennedy Wilson Brokerage, Shapiro has additionally served as the firm's top producing agent for the last ten consecutive years. He is currently the exclusive agent for more than 930,000 square feet of space, and in 2020, he closed 24 transactions, including four sales totaling more than $49 million. He aims to serve as a long-term advisor to clients; prioritizing relationships and camaraderie as his primary goal. With 33 years of industry experience and a flexible yet determined mindset, Shapiro remains a trusted partner to clients throughout market challenges and a mentor to new brokers as he leads the firm's internship program.

SANDY SIGAL NEWMARK MERRILL COS. Since the beginning of the pandemic, Sandy Sigal has spent hundreds of hours fighting for the survival of small businesses. He passionately educated local and state politicians on the pandemic's impacts, requested assistance on behalf of small businesses, and guided the public by sharing survival strategies via countless media outlet interviews. As founder, president and CEO of Newmark Merrill Cos., Sigal leads the company to further impact the industry while operating more than 11 million square feet of retail real estate. In March 2020, Sigal launched the company's "Together We Can" program to assist tenants in securing funds from various sources. Under Sigal's leadership, the firm additionally implemented a community support initiative that partners shopping centers with local tenants to give back to first responders, educators and more. In addition to the two widely-successful initiatives, Sigal continues to actively serve the community through various industry and community organizations.

ANJEE SOLANKI COLLIERS INTERNATIONAL As an expert creative problem solver, Anjee Solanki has become a key stakeholder to national and international retailers, as well as institutional and private clients. Having developed deep industry relationships, Solanki continues to enhance value for her clients through her retail expertise, strategic advisory services, multi-year planning initiatives and her approach to reduce risk profiles. Solanki's highly-focused strategy toward identifying current market and property inefficiencies, allows her to capture untapped value through asset repositioning, re-leasing, redevelopment, rehabilitation, proactive management and enhanced marketing. As national director of retail services for the US at Colliers International, Solanki provides leadership to more than 500 retail professionals across 140 markets. With more than 30 years of professional retail real estate experience, Solanki additionally serves as a contributor and an active member of ICSC, Forbes Real Estate Council, ULI and Colliers' diversity & inclusion executive committee.

DANIEL SWEENEY COOPER CARRY Realizing his passion for impacting physical environments at an extremely early age, Daniel Sweeney carries this into career today as an esteemed architect. Upon gaining experience and becoming well-versed in various project types, Sweeney joined Cooper Carry in 2015, where he now serves as associate principal and leads the firm's retail studio. Creating fresh, evolving spaces that encourage exploration, Sweeney's holistic design approach is rooted in human behavior and aligns the firm's mission of connecting people to places, while enhancing the delivery of client expectations. Understanding architectural intricacies, he excels at utilizing unique aspects of each sector in the retail environment. He integrates multiple uses into a project and blends his designs with business sensibilities to achieve heightened economic value and better serve client needs. As a LEED accredited professional, Sweeney directs adaptive reuse projects to create authentic retail destinations; reimagining properties while enhancing longevity through sustainable designs to add true value.

JOHN TENNANT FRANKLIN STREET Commencing his retail real estate career in the early 90's within a construction leasing capacity, John Tennant has since worked as a development partner, a landlord leasing broker, and currently, as senior director of retail investment sales at Franklin Street. With retail background spanning more than three decades, Tennant has gained robust sector experience; allowing him to provide unique and relatable perspectives to his clients on a variety of levels. As a founding member of Franklin Street's Atlanta-based team, Tennant helped lead the firm to become one of the largest full-service commercial real estate companies in the Southeast. In 2020, Tennant, alongside his partner, closed more than $75 million in retail sales, which once again secured him the position as the company's top producer within the office, despite the turbulent times. Tennant's efforts have also repeatedly secured him Franklin Street's sales achievement award as well as CoStar's power broker award.

GEORGE B. TOMLIN GBT REALTY CORP. After founding GBT Realty Corp. more than three decades ago, George Tomlin recently evolved the firm's pure retail development roots to focus on urban, mixed-use projects and pursue lifestyle retail to support live, work, play and dine communities. As president and CEO of the company, Tomlin's greatest accomplishments comprise both the built environment and human capital. In addition to changing the shape of Nashville's skyline through his efforts, Tomlin has also generated a team of 78 experts that have built a portfolio of more than 37 million square feet of space, valuing more than $7 billion. Aligning himself with prominent retail brands throughout his 41-year career, Tomlin's success spans from his ability to assess both the specific, unique needs of each retailer, as well as the needs and demographics of each community, in order to identify favorable sites and tailor retail tenant mixes to benefit both parties. Tomlin's impact extends further into the community as a supporter of many local charities.

JUSTIN WEISS KENNEDY WILSON BROKERAGE As a native of Los Angeles, Justin Weiss fostered a deep, personal and professional passion for Downtown Los Angeles upon working for the Downtown Center Business Improvement District in 2006. Garnering strong relationships with local stakeholders and extensive knowledge behind each property, Weiss quickly established a reputation as a premier DTLA expert. In 2013, Kennedy Wilson Brokerage recruited Weiss to spearhead its DTLA retail brokerage platform. As VP, he has since completed numerous deals across retail, mixed-use, adaptive reuse and other sectors in every downtown neighborhood. Taking a holistic approach to influencing the area, Weiss has learned the stories behind every building, street corner and block in order to build a better downtown. Throughout his career, he has worked directly with the City of LA, the DCBID, the Central City Association and various stakeholders to continuously develop initiatives geared toward increasing the quality of life for residents, employees, businesses and property owners within the area.

MICHAEL ZACHARIA CBRE INC. As EVP of CBRE's Mid-Atlantic retail group, Michael Zacharia holds vast experience in advising retailers and retail ownership on strategic planning within the Washington DC area. Serving in this role for more than 25 years, Zacharia is well-equipped to assist clients in navigating various retail challenges and roadblocks, and in 2020, he excelled at just that. Throughout the pandemic, Zacharia guided clients in opening new locations, offered innovative strategies to be nimble and open-minded, provided assistance in securing sustainable, post-pandemic futures and effectively set his clients up for long-term prosperity. He has consistently served as CBRE's top Mid-Atlantic retail broker for three years. Striving daily to enrich both his community and his clients, Zacharia serves as an active member of CBRE's national retail advisory board, High Street Luxury Brand's Urban Specialist Group, the National Retail Development Group, ICSC, REAP, Rebuilding Together and Junior Achievement.
TEAMS
AVISON YOUNG TEAM OF MILINOVICH, DECREMER AND JARAND Avison Young's Strategic Retail Group is among the top performing retail teams in the Phoenix market. Led by principals, Matt Milinovich, James DeCremer and David Jarand, the team joined Avison Young in 2019. The Strategic Retail Group has a hand in all parts of the retail transaction, from leasing, acquisitions and development to strategic site-selection and expansion plans for national and regional retail tenants. In 2020, the team closed 76 lease transactions and seven retail property sales, despite the market upset due to the pandemic. This included driving leasing activity at The Post at Cooley Station, a 23-acre, 172,000-square-foot shopping center in Gilbert, AZ. The team completed 11 total leases at the property on behalf of the property owner Evergreen Devco. Milinovich, DeCremer and Jarand are active members of ICSC and regularly work with local charities.
BAYER PROPERTIES' RETAIL LEASING TEAM The Retail Leasing Team at Bayer Properties represents some of the largest retailers in the nation. Led by EVP of leasing, Paul Neuroth, SVP of national key accounts, Nikki Columbo and VP of leasing, Krista Wood, the team totals 12 professionals that boast a collective of more than 140 years of retail leasing experience. It has clients in 19 states in the Southeast region and beyond, including retail giants like Whole Foods, Shake Shack, West Elm, Trader Joe's and The Container Store. In response to the pandemic, it launched an internal taskforce to work closely with individual clients and provide a tailored approach for tenants. As a result, the team completed 34 new tenant openings in the last 12 months, including the debut location of Main Event Entertainment and the second Cheesecake Factory location in Alabama. In addition to driving business, the retail team continued to adapt and evolve in 2020, working with data company, Placer.ai to better identify market opportunities for clients.
CUSHMAN & WAKEFIELD'S MORGAN TEAM Cushman & Wakefield's San Francisco retail leasing team represents clients in some of the most high-profile retail transactions around the globe. The six-person team is led by industry rainmaker and Cushman & Wakefield vice chairman, Kazuko Morgan, who has been involved in more than $6 billion in deals throughout her career and is regularly named a top producer at the firm. Her teammates include directors, Mary Kate Banchero, Courtney Griffin, Susie Hall, Kelly Vinson, and executive director, Carine Mamann, who have worked alongside Morgan to close a long list of impressive transactions in the last year, including Ingka Centres' acquisition of the '6X6' development on Market Street in Downtown San Francisco for an IKEA-anchored mixed-use project; the sale of an 11,600-square-foot retail property at 457-459 North Rodeo Drive in Beverly Hills for $96 million; and overseeing leasing efforts at Thrive City at Chase Center, an 11-acre mixed-use complex anchored by the 18,064-seat Chase Center arena San Francisco's Mission Bay.
COLICCHIO CONSULTING, THE SPECIALTY FOOD BEVERAGE AND ENTERTAINMENT CONSULTING TEAM AT CUSHMAN & WAKEFIELD The Colicchio Consulting Team specializes in food hall consulting, programming and development, restaurant curation and special event space planning and is a significant player in the food-related retail market. Team leaders, Phil Colicchio and Trip Schneck founded Cushman & Wakefield's Specialty Food, Beverage and Entertainment platform in 2019. The duo have complementary strengths; Colicchio is a former attorney with experience representing 50 James Beard Foundation winners, and Schneck is a former hotel industry executive and has launched two hotel technology start-up companies. They have worked on more than 50 food hall projects in the US, Canada, Puerto Rico and the UAE, and regularly represent owners and restaurateurs in projects that have cultivated James Beard Foundation Award winning chefs. The team has been active in helping restaurants cope with the challenges of the pandemic by leading Cushman & Wakefield's efforts to support the James Beard Foundation Restaurant Relief Fund, which distributed $4.7 million to 300 independent restaurants during the peak of the pandemic.
HANLEY INVESTMENT GROUP'S ASHER & LEFKO Since 2018, the Asher Lefko Retail team at Hanley Investment Group Real Estate Advisors has been ranked as the top producing team at the firm for the past three consecutive years. Team leaders and EVPs, Bill Asher and Jeff Lefko cemented their reputation early on, closing 54 retail property sales totaling $300 million in transaction volume in the first year of their partnership at the firm, earning them a spot among the top 1% of brokers. By year two in 2019, they increased their sales volume by 65%, closing 89 total transactions. The pandemic proved to be no obstacle for the team, which closed 87 retail properties totaling more than $360 million in transaction volume in 2020. Many of the transactions in the last year also closed at record low cap rates, including the sale of a new Chipotle Mexican Grill with a double-drive-thru in Lathrop, CA, for $3.2 million and a 4.05% cap rate, and the sale of a drive-thru-only Starbucks in San Pedro for $3.1 million and a 3.58% cap rate. In the last three years, the team has closed 250 transactions valued at more than $1 billion.
JLL RETAIL AMERICAS TEAM The JLL Retail Americas team is a mainstay in the retail brokerage market. Led by Greg Maloney, the group works with clients of every size to serve all retail needs and provide end-to-end solutions, including leasing, investment and capital markets needs. Through the pandemic, the team has worked closely with clients to adapt their business models and improve supply chains to handle the new volume and last mile distribution demands of consumers looking for alternative ways to buy goods. In the last 12 months, the group has launched a Retail Industrial Taskforce and a cross-border retail business, both of which will provide clients with solutions for global expansion and help to navigate new needs. In addition, the group has been named one of the World's Most Ethical Companies for 13 consecutive years.
KUSHNER'S COMMERCIAL & LEASING TEAM The retail team at Kushner Commercial is small but mighty. Serving the New York, New Jersey and Florida markets, the four-person team—which includes VP, Isaac Buchler, director of commercial leasing, Ira Bloom, head of retail and commercial leasing, Max Swerdloff and leasing administrator, Adam Carlo—manages a 2.2 million-square-foot retail portfolio, including some of the region's most high-profile properties. Most recently, this includes overseeing leasing at Pier Village, a 170,000-square-foot retail property on 2,000-feet of oceanfront in Long Branch, NJ. The team has integrated a broad range of retailers into the property, including restaurants and cafes, small shops, salons, a gym and an arcade. The team calls the project one of its "greatest accomplishments." When the team isn't serving clients, it is serving the community, participating in numerous charities, including Friendship Circle, the Hope Autism Foundation, Kulanu Metrowest and West Orange Chesed Society.
NEWMARK MERRILL REOPENING TASKFORCE NewMark Merrill took the pandemic head on to support clients. At the start of the pandemic in March 2020, the retail firm responded immediately to the market upset by launching a Reopening Taskforce to guide retailers and owners through mandated store closures, accessing capital and understanding CDC and other health and safety guidelines. In the first phase, the taskforce helped more than 500 tenants collect $20 million in funds from the first round of PPP funding. Next, it focused on the installation and implementation of safety measures at shopping centers and retail stores, such as hand sanitizer locations, curbside pickup and socially distanced signage. The team also launched Wave of Kindness to help essential workers and in-need community members, including teachers, seniors, those experiencing homelessness, frontline workers and those with food insecurity. The program has donated more than $300,000 and supported more than 8,000 families. The taskforce was critical in providing bespoke service to clients, helping tenants survive the crisis and supporting the local community through the challenges of 2020.
SRS REAL ESTATE PARTNERS' NATIONAL NET LEASE GROUP SRS Real Estate Partners launched the National Net Lease Group in 2016, and since then it has grown into one of the largest retail-only brokerage firms in North America with 50 investment brokers and 20 support staff across more than 25 offices nationally. With managing principal, Matthew Mousavi, EVP, Patrick Luther and market leader, Patrick Nutt at the helm, the group closed a record-breaking year in 2020 with 534 deals totaling $1.9 billion in total net lease transaction volume, a 26% year-over-year increase. It was an impressive follow up to 2019, when the firm completed more than 480 sales in 41 states, totaling more than $1.8 billion in value. While retail is the firm's core focus, it follows client demand, which in recent years has led to an increase in medical retail facilities and retail-serving distribution centers, both of which also fall into the net lease category. The firm expects to expand its net lease asset roster and geographic footprint further in 2021.
THE MANSOUR GROUP OF MARCUS & MILLICHAP Brothers, Alvin and Kevin are executive managing director investments and first VP investments respectively, of the Mansour Group of Marcus & Millichap, one of the largest net lease brokerage teams in the nation. The duo have built a strong industry reputation over the last 13 years, working on quality of net-lease properties and regularly juggling more than 250 deals at a time. In 2020, the team closed 163 transactions valued more than $750 million. Alvin Mansour alone has completed more than $5 billion in real estate transactions throughout his career, and leads the team in net lease investment sales, sale-leaseback transactions and portfolio dispositions nationwide. The team partners with its clients through a collaborative approach that includes creating new markets for net-lease properties.
COMPANIES
A&G REAL ESTATE PARTNERS Boutique retail firm A&G Real Estate Partners played an integral role in helping tenants cope with the challenges of the COVID-19 pandemic. In 2020, the firm closed 13,600 leases on behalf of 61 tenants nationwide, including restaurants, supermarkets and fitness centers, and it negotiated lower rents on 10,450 leases and termination agreements on 950 deals. The transaction activity had a huge impact for tenants, saving $1.8 billion in occupancy costs and thousands of tenant closures. But COVID-19 isn't the first event to rock the retail sector. The industry has been going through a transition for years, and A&G has worked with retailers to advise them through the changes. Since 2018, A&G has negotiated 18,750 leases for 110 clients, saving a total of $2.8 billion in occupancy costs. This included managing major reorganizations on behalf of tenants. One example is reducing occupancy costs for 2,700 stores for Mattress Firm as part of a Chapter 11 filing. When not representing clients, A&G works to educate the next generation of retail professionals as a sustaining member of the Association of Governing Boards for Colleges and Universities.
LAST MILE INVESTMENTS Led by managing partners and co-founders, Ryan Moore and David Birdsall and CFO, Todd Pleiman, Last Mile Investments works on major retail transactions and developments. In 2020, the firm launched its premier investment fund, Neighborhood Retail Fund, to buy un-anchored multi-tenant retail centers with tenants that are Internet and Amazon resistant. The fund closed in the middle of the coronavirus pandemic with $30 million in equity commitments, a testament to the company's reputation and investment strategy. The firm is a North American Properties portfolio company, and has leadership positions with ULI Industry Councils. It has board seats with Buffalo Rings and Wings, Lightbridge Academy and Al Neyer.
LEVIN MANAGEMENT CORP. Since the 1980s, Levin Management Corp., an affiliate of Levin Properties, has built a retail portfolio that serves institutional, fiduciary and private owners in the Northeast and Mid-Atlantic regions. The company has more than 110 properties totaling 15.5 million square feet. In the last three years, the firm's growth has gained considerable momentum, closing 2.2 million square feet in transactions on behalf of its clients' properties. In the last 12 months, it has secured nearly 700,000 square feet of new leases and renewals. Levin has also worked closely with tenants and owners to set up outdoor seating and curbside pickup at restaurants, assisted with social media campaigns to drive business and helped tenants to navigate the CDC health and safety guidelines. The company is a member of ICSC.
LOWNEY ARCHITECTURE Lowney Architecture is a trailblazer in urban design. The firm works across asset classes, including experienced-based retail and grocery projects, with the goal of producing reduced-carbon projects that are walkable and have efficient infrastructure, shared resource use and an overall low environmental impact. The firm is a leader in modular design and currently has more than 60 projects. Some of its ongoing projects include Community Foods in Oakland, a project that will serve as a prototype for affordable grocery stores in urban communities with limited access fresh food, and City Slickers Urban Farm in West Oakland, a community-designed project on an underutilized lot. This unique niche has supported an expansion to 50 employees, with 15 new team members brought on between the Oakland and Honolulu offices since March 2020. This year, the firm has also been selected by the Urban Land Institute to write a whitepaper, "The California Guide to Modular Design and Construction," which will be published in time for distribution at ULI's Housing the Bay Summit in the fall. It is expected that this will help to encourage the adoption of modular design throughout the Western region.
PEBB ENTERPRISES PEBB Enterprises doesn't believe in the retail apocalypse. Instead, the South Florida-based investment and development firm is aggressively purchasing retail assets and developing ground-up retail projects throughout the US, targeting South Florida, Nevada, Texas, Tennessee, the Carolinas and numerous states in the Midwest. The firm currently has a strong construction pipeline, including Plaza Delray, a 30,700-square-foot property of restaurants and service-oriented retail shops in Delray Beach, and an 8.85-acre Publix-anchored retail center in the Jacksonville metropolitan area. Last year, the firm entered the New York market with the $8.4 million acquisition of the 188,109-square-foot Soundview Marketplace in Port Washington. PEBB is equally as committed to its employees, promoting a strong work-life-balance, hosting team-building events and coaching and encouraging community engagement, including support of the local food bank Feeding South Florida.
THE BEACH CO. Founded in 1945, The Beach Co. has built a reputation as a leading multifamily and retail developer in the Southeast. Based in Charleston, the firm has developed some of the most iconic projects in the region, including Kiawah Island and Isle of Palms, and it is frequently delivering new projects that meet the same high-caliber of construction. The Jasper, a 12-story mixed-use property that had been in development since 2006, opened in January 2021 and has the only waterfront retail experience in Charleston. The Canvas in Greenville, SC, a mixed-use property with 21,000 square feet of ground-floor retail space below apartment residences and office space, is currently under construction and includes the beautification of two local parks. The Beach Co. regularly participates in the preservation of public spaces for the betterment of the community. It donated $1 million to revitalize Moultrie Playground and Park at Colonial Lake in 2016, and it made an additional $50,000 contribution to Friends of Moultrie Playground, a grassroots organization operating under the Charleston Parks Conservancy umbrella.
WASHINGTON PRIME GROUP Retail REIT, Washington Prime Group has reimagined the standard landlord-tenant relationship by partnering and collaborating with tenants to deliver a better retail experience. The firm's core strategy has proven to be critical through the pandemic. In 2020, WPG provided $7 million in rent subsidies to small businesses through its Open for Small Business initiative, including $4.5 million in economic relief to minority-owned small businesses, $600,000 in allowances for new local tenants and more than $500,000 in emergency capital for existing local and regional tenants. Plus, it completed nearly 3.5 million square feet in lease transactions during the year. WPG's strategy has also driven remarkable value for the company. Formed in 2014 as a spinoff from Simon Property Group, WPG has built a portfolio of 100 town centers throughout the country and is the landlord to hundreds of top-rated, boutique and mom-and-pop tenants. The firm's success is underscored by its innovative and forward-thinking marketing campaigns, which reach more than 350 million consumers annually.